Mobile App Development
Best-in-class services behind better customer experiences
Let's talk!
Top Mobile App Development
Dedicated Mobile App Developer for Hire
We at Bats-Hub help you design and deliver highly intuitive and impact-full mobile application with help of our Mobile Application (App) Development team, which not only accurately witness your idea or business process but also adds value to it.
Our team posses tremendous expertise in various technologies like Native iOS & Android development, Cross Platform Application development, Hybrid Application development and Software Development Kit (SDK) development. We are well versed with programming language & frameworks like Objective C, Swift, Java, Kotlin, PWA, Phonegap, Xamarin.
We have delivered mobile app development services and solutions in multiple domains.We have a pool of dedicated mobile app developer in India.
Mobile App Development Services
Mobile App Developer Hire

Managed Mobile Development Service

Mobile App Development Consultant

Hire iOS Mobile Developer

Hire Android Mobile Developer

Mobile Application (App) Development using React Native

Hire Software Development Kit (SDK) developer
Our Developer Hiring Service will help you acquire right solution resource. We utilize various productivity tools to make sure that the developer you hired from Bats-Hub is delivering output effectively and efficiently.
Mobile App Developer for Hire
Enterprise Mobile App Development
We will be your go-to technology partner to address your versatile enterprise technology needs.
Business Mobile App Development
Expand your business reach with help of Mobile technology. Bring best Business Ideas to life using mobile technology.
Experimental Mobile App Development
If you have an innovative idea that needs a helping hand from mobile technology app development perspective. We are here to hold your hand.
Mobile App Performance Optimization
If you are willing to build any of the above mentioned Mobile App, BatsHub can help you to hire dedicated mobile app developer in India. We have talented mobile app developer for hire.
Our Mobile App Development Program, we help you package the solution in a extremely simplistic manner, you choose from set of services that are truly necessary to develop an impact-full application, you may opt in/out to choose it based on what you feel is very necessary for your business and we make sure we give you a complete mobile app development solution working on required pieces, assembling existing pieces & blending it into a complete solution. Get a Dedicated App Development Team for your project.
Custom Mobile App
Development Solution
Mobile App Development
Services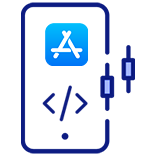 iOS
App Development
We pioneer in Native and Cross-platform iOS Mobile App Development solutions.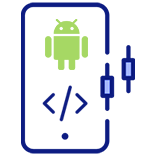 Android
App Development
Leading Android Application Developer in India, with best industry exposure.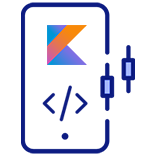 Mobile App Development
Using Kotlin
Explore our Kotlin Application Development Service and build top notch apps.
React Native
App Development
Best React Native App developer in India. Hire talent and build Apps.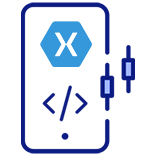 Xamarin
App Development
Top Xamarin Developer in India. Best cross platform app development.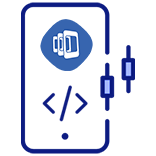 App Development
Using PhoneGap
Top Cross platform application development agency in India.