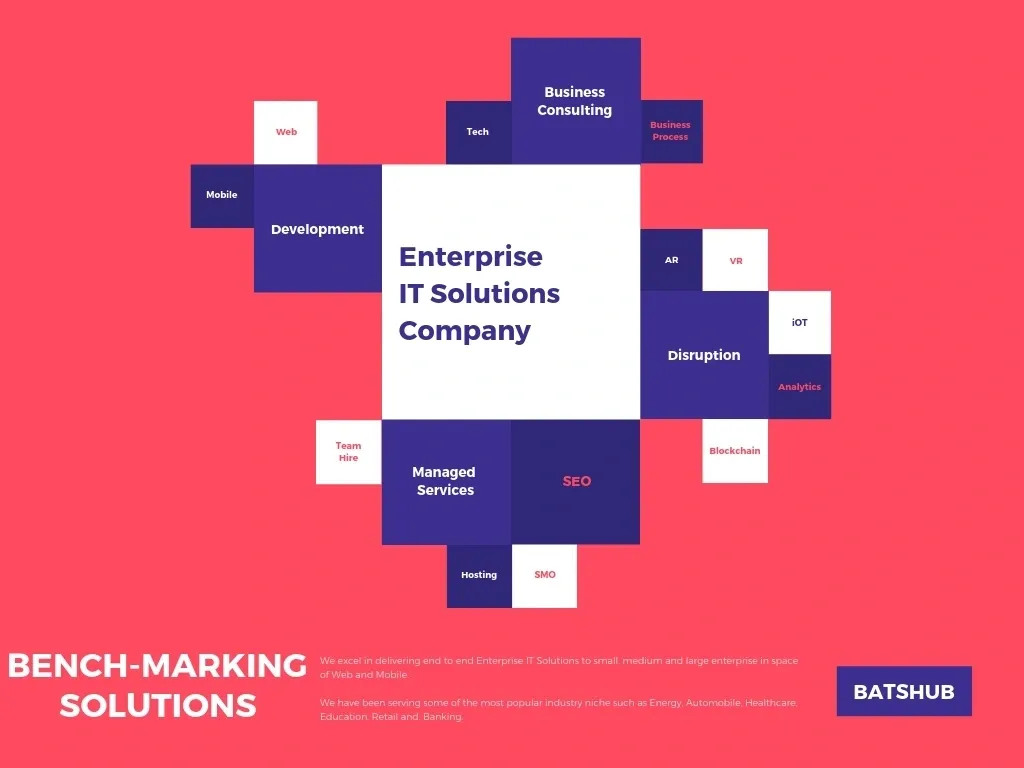 We have consolidated a list of our service offerings for you to look at and be know to our wide range of services that we deliver withing our portfolio. BatsHub Enterprise Services offers wide set of solutions to businesses. You can refer below set of services that we are successfully serving businesses with.
We have range of solutions to offer under each mentioned head. Our mobile application delivery portfolio covers solutions for business like transport, retail, hospitality, food, healthcare, banking, energy and lot more. Apart from mobile we do have other sectors like showcased in the info-graphics that covers services like business consulting, SEO and other innovative integration solutions.
We have a deeper insight about the needs of enterprise and have ability to blend in your existing organizational processes and be a catalyst of change. Get in touch with us today to understand our service arena in depth.
Top Web and Mobile Development
Company in India

iOS
App Development
BatsHub has extensive experience in iOS App Development and helps develop native iOS app and cross-platform iOS App Development.
Android
App Development
BatsHub can help you in Native Android App Development. BatsHub also has great Mobile UI and UX development team.

API
Integration Service
As a pioneer mobile and web development service provider we also top API integration service and have extensive experience in API integration.

Hire
Wordpress Developer
If you want cost effective Website Development using Wordpress then hire Wordpress developer to help in Wordpress Website Development projects.
Magento
Website Development
BatsHub is also among to Magento Website Development service provider in India and USA. Hire our Magento Developer to develop eCommerce site.
Custom PHP and
Dot Net Developer
If you have any custom PHP web development work and want to hire dot net developer. You can hire our backend developers.